Once upon a time I was a chronic project finisher. If I started it, then by golly I finished it. This came from the days when I used to sew a lot of my own garments. I would have 4 or 5 items finished except for that last step. They would need hems, or buttons or something equally as minor before I could actually wear it. So I made a rule. I could not start on the next item that I really wanted until the current one was finished. It worked wonders. I got very disciplined about finishing my projects. That even carried through into my quilting. Then somewhere along the way my sewing/quilting/arting time got so busy (hello, entrepreneurialship!!) that I started to let projects go. I was fine with that. Many were items that I started because I wanted to learn a new technique, and once that was done I didn't necessarily care about the actual project.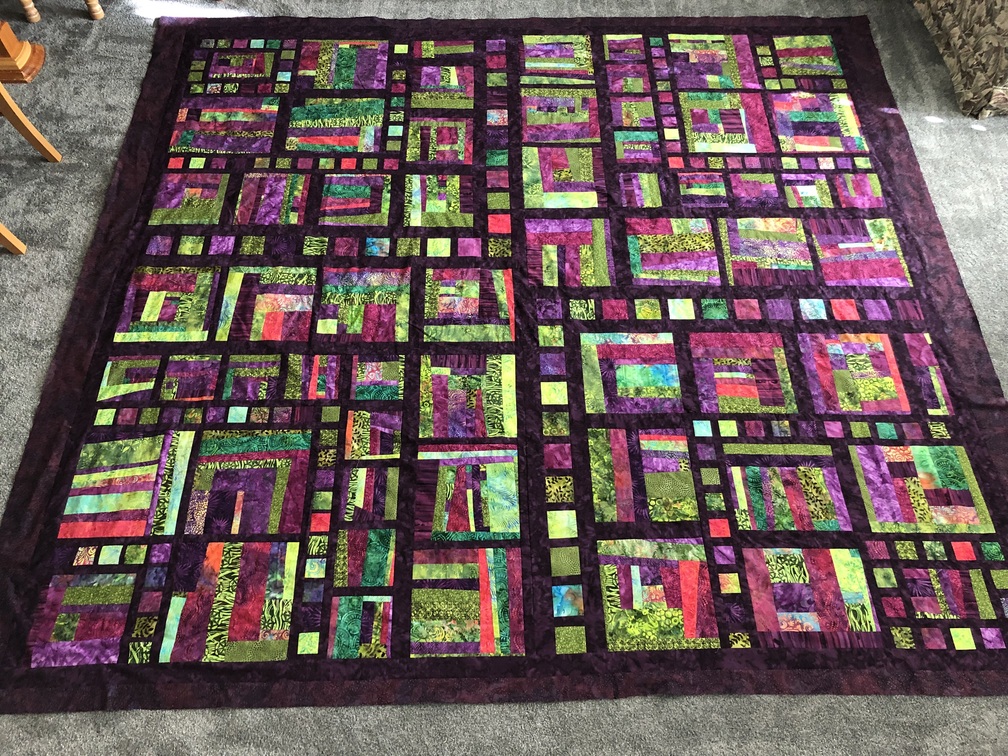 Enter the quilt. Or should I say The Quilt. This is a quilt that someone asked me to make for them, probably four or five years ago. Normally I won't just make something for someone just because they asked. But this person is special, so I said yes. I also haven't made a bed quilt in a very long time either and this was to be a king size bed quilt. We'll leave it at that for now. The fabric was purchased (lots of gorgeous, colorful batiks that I love), and I was given carte blanche with the design. Those fabrics sat for a long time. I would pick them up and fondle them occasionally, just because I loved the color and the feel. I would ponder on the design, and then put them away again. I worked on this design in the back of my mind for quite a while. I definitely didn't want to do a traditional design, but I'd been art quilting for a while, and the constraints of a regular bed quilt just didn't call to me any more.
I had been playing around with a "crazy quilt" method for a while. For those of you who don't know what this is, go here. I decided that I could use that method with my own style, so I sat down with my cross hatch paper and my pencil and started to draw. And count squares. And count more squares. I finally had a workable design. Which I set aside again. I'd pull it out every now and then and cut and sew and work on it for a few hours at a time, knowing that this was not a sprint project. This was a marathon. Slowly it began to come together. It picked up momentum. I continued to work on it when I had a few hours free and I wanted to sew. There is usually a lull in my business at the end of the year, and this year was no different. Now I had a lot of time to work on it, and the desire as well.
The Quilt itself still isn't finished, but the top is complete. That's a huge accomplishment. I'm working on the back now, and am hoping I'll have the quilt sandwich made before things pick back up again as 2019 arrives. What does all this have to do with being a chronic project finisher and the Creative Dam? Each time I thought of a new art quilt or art project I wanted to start I had this niggling feeling that I needed to work on this quilt instead. I needed to finish it. Yes, I have other projects lined up, both partially finished ones, and those that are just ideas. But I can feel the energy, the momentum building behind the dam. And that dam is The Quilt. I am excited to see what 2019 has in store, and all of the wonderful possibilites and projects. And I'm super excited to finish The Quilt and having it land with that special person, and then to watch and feel that dam burst.
Follow me on Instagram: https://instagram.com/reggi_coles